Virginia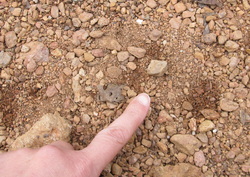 Fairy Stones - Fairy Stone State Park, Stuart, VA
What you'll find -
Staurolite
What is it - "fairy stones" are little cross shaped stones
Hours - Open year round 8:00 a.m. - 10 p.m.
Website -
http://www.dcr.virginia.gov
Address - Park Address: 967 Fairystone Lake Dr., Stuart, VA
Collection Site:
On 57 about 3 miles from the park entrance
Phone - (276) 930-2424
Tips: Go to the state park first. They have a good collection of "fairy stones" so you'll get a sense of what they look like. They will direct you down 57 about 3 miles to the Fairy Stone Pit Stop. Follow the marked trail in along a dry stream bed and look closely at the gravely areas. The crosses really come in a variety of shapes and perfect crosses take a bit of patience to find. The farther into the woods you go, the less picked over the gravel is.
Kid Tip: The Legend of the Fairy Stone: Many hundreds of years ago, fairies were dancing around a spring of water, playing with naiads and wood nymphs, when an elfin messenger arrived from a city far away. He brought news of the death of Christ. When these creatures of the forest heard the story of the crucifixion, they wept. As their tears fell upon the earth, they crystallized to form beautiful crosses.
---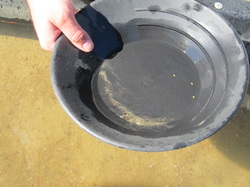 Gold - Monroe Park, Goldvein, VA
What you'll find - Gold & Pyrite
What is it - It's gold and fools gold
Hours - Open year round Wed - Sat 9:30 a.m. - 5 p.m. and Sunday 12p.m. - 4p.m. Closed Thanksgiving, Christmas, New Years and Easter. Gold panning demonstartions are weather permitting Wed - Sun at 2pm with an extra demo on Sat at 10am.
Website -
www.goldvein.com
Address - 14421 Gold Dust Parkway, Goldvein, VA
Phone - 540-752-5325
Tips:This was a great educational park for the kids that gave a full overview of how a Virginia gold mining camp would have looked and operated. The best part, is the gold panning demonstration. The museum guy was very patient and knowledgeable about how to pan and really took the time to show my kids the technique. Despite near freezing temperatures when we went, we panned for about an hour in the tubs next to the one building. My daughter found a very tiny fleck of gold. In the picture above are three little flakes of gold on the right side of the guide's pan. There is also lots and lots of Pyrite mixed in, and I'm glad our guide knew the difference because it is hard to tell. Don't expect to get rich here, but it was lots of fun and we all came home with pans and viles to try out in other streams. There's also a playground at the park.
Kid Tip: The Virginia gold belt is about 200 miles long. Virgina produced the most gold in the USA in the early 1800's until gold was discovered in California.

---
Amazonite - Morefield Gem Mine, Amelia, VA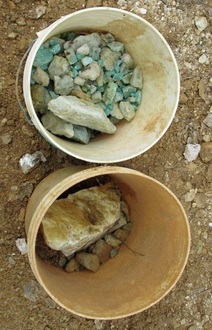 What you'll find - Amazonite and other rocks
What is it - A very blue variety of feldspar
Hours - vary greatly depending on the season, so check the site or call
Fees - check website, but it was a set fee, and you can take what you can carry
Website -
www.morefieldgemmine.com
Address - 13400 Butlers Rd., Amelia, VA
Phone - 804-561-3399
Tips: We went over spring break and the place was packed with kids
, but I heard it's generally quieter than that. Basically they have an underground mine with some of the bluest amazonite I've ever seen. They bring their front end loader out of the mine with all their tailings, which they dump on the ground in a pile for everyone to pick through. You then take your finds to the sluicing lines to wash of the dust and the dirt. We all came away with a lot of amazonite without to much effort. Even very small kids can handle this place well. The picture to left shows a bunch of washed rocks on the top and the dirt ones below. You may also find small pieces of amethyst, opal, moonstone and other cool rocks here.
Kid Tip: Feldspar is usually pinkish or tan. There aren't to many places in the world where it's bright blue like this.
---