Connecticut

_Garnets - Roxbury Falls, CT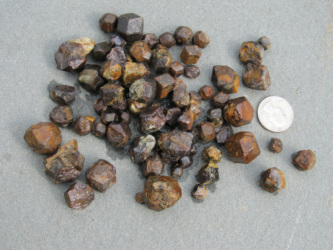 _Update! This property was sold and is off limits to collectors the last we heard.

What you'll find - Garnets
What are they - Reddish, faceted crystals
Fees - $5 per car
Address - Near the intersection of Garnet Rd. and Perkins Rd. in Roxbury Falls, CT. Take Perkins Rd all the way until it ends (at Garnet Rd.) and continue straight on the dirt road to a gate posted with no trespassing signs. Do not park here. Turn right (north) into the driveway nearest the gate and you can park in the driveway opposite the front door and pay the owners the $5.00 fee. If nobody is home, leave the fee under the door mat. The collecting area is immediately to the north from the parking area. Follow an obvious path straight down the driveway, along the left side of the garage, straight through a small clearing in the trees.

Tips - We actually preferred the area a little more to the left of the garage down the path past the tire swing for the younger kids. There are plenty of garnets in the piles of dirt there just there to be picked up and it's not as steep and rocky as the bigger area behind the garage. If you have older kids, you can bring a hammer and goggles for breaking the bigger rocks that have tons of garnets in them. Bring plenty of bug spray!

Kid Fact - Garnets come naturally faceted (shaped) kind of like balls.

---