New Hampshire

Aquamarine & Rose Quartz - Beryl Mountain, South Acworth, NH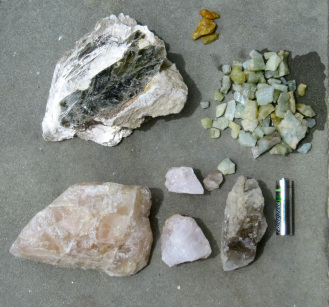 What you'll find - Beryl, mica, rose quartz, smokey quartz
What are they - The beryl here and comes in blue known as aquamarine (pile on the right) and a gold color (top of photo). The mica is the gray flaky mineral top left. The rose quartz is pink (bottom left) and the smokey quartz is grayish (bottom right).
Fees - None
Address - Near the intersection of Beryl Mt. Rd and McLaughlin Rd. Just past the town highway department garage there is a pull off on the west side of the road. Park here. Across the road, just to the south of McLaughlin Road (a packed dirt road) there is an opening in the trees leading to a very rough dirt road that runs parallel with McLaughlin for a little bit before it heads more up the mountain (see pic in slideshow below). The abandoned mine is about a 1/4 mile up.

Tips - This is a nice free spot. We went after a lot of rain and it was quite buggy. The aquamarine is scattered mostly to the right side of the first pile of rocks. We found some good size rose quartz by following a path leading farther uphill to the left of the mine. They were in the dirt on the backside of the mine wall (if you can call it that). There are more piles of rocks farther up the path, but we didn't get that far due to a pop up thunderstorm.

Kid Fact - Beryl (aquamarine) was discovered at this spot in the 1820's. Scientists supposedly collected giant 4 to 5 feet long crystals from this location in the 1840's.
---
Aquamarine - Ruggle's Mine, Grafton, NH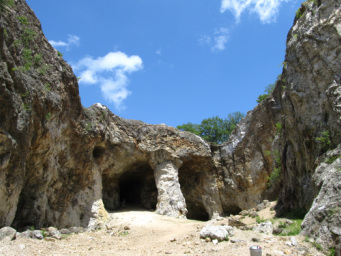 _
What you'll find - Beryl, garnets, black tourmaline, mica, uranite, etc.
What are they - Beryl is the flashiest of minerals found
here and comes in blue known as aquamarine.
Fees - Adults 25$, Children (4-11) $13, Children under 4
are free with a paid adult
Hours - From June to October 9am - 5pm, Last ticket sold
1 hour before closing
, In May it's open on some weekends.
Address - Near the intersection of Route 4 (not 4a) in
Grafton and Riddle Hill Road. There are lots of signs.
Website -
http://www.rugglesmine.com/index.html
Tips - This commercial mine is on the pricey side
for the minerals you'll find, but it extremely impressive to see and be able to explore. The kids had a lot more fun going through the different tunnels than they did actually collecting. The best spot for collecting seems to be way in the back of the mine, through another tunnel or two where the dump piles have been pushed. There is lots of white quartz, and plenty of glittering mica in the back. We went a year after their last blast and only found a couple of small aquamarine (beryl) pieces. We also found a few, non-gem garnets and a good amount of black tourmaline. It's probably best to follow their Facebook Page and visit right after they have a new blast.
Kid Fact -
This mine was originally for Mica, the flaky mineral found here. It was first discovered here in 1803 by Sam Ruggles, who the mine is named after. Mica was worth so much money in the 1800's Sam kept the mine's location a secret so he could claim the top of the mountain and all it's Mica for himself
---