Arkansas

_Quartz - Board Camp Mine, Mena, AR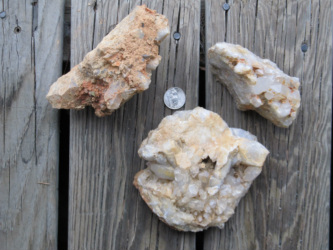 _
What you'll find - Quartz
What are they - From small to huge clear or orange stained crystals
Fees - 16 and older $20 to dig and fill a large bucket
16 and under FREE!
Address - 110 Hickory Ridge Rd., Mena, AR
Hours - March 1 - October 31
You must call ahead for a reservation!
Phone - 479-243-0771
Website - www.boardcampcampground.com
Tips - This place is full of quartz! The picture here is just a couple of the clusters we found, and the top piece is what they look like uncleaned. We actually found buckets full. There are many quartz mines in Arkansas but many limit you to looking through tailing that have already been picked through.
At Board camp you are the first to get in there and dig quartz from the ground. The mine owners are super nice and were happy to show us around. We only had a couple of hours before a nasty thunderstorm rolled in, but we all came away with plenty of quartz to weigh down the car with. Wear old clothes though, that red Arkansas clay can be tough to get out.
Kid Fact -
If you shine a laser pointer at clusters of quartz crystals it will make each crystal glow red, one at a time.
---
_Diamonds - Crater of Diamonds State Park, Murfreesboro, AR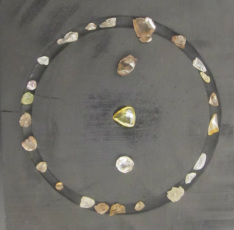 _
What you'll find - Diamonds if you are lucky, Jasper,
Lamproite, etc.
What are they - The diamonds here can be yellow, brown, or clear.
Fees - 12 and older $8,
6-12 $5
, 6 and under FREE!
Address - 209 State Park Road, Murfreesboro, AR
Hours - All year, 8am - 5pm
& May 28 - Aug 14 8am - 8pm
Phone - 870-285-3113
Website - www.craterofdiamondsstatepark.com
Tips - We only stayed a couple of hours, but we did not find any diamonds. However, two days before someone had found a 6.19 carat diamond so we know they are still out there.
We did find tons of red and yellow jasper along with lamprolite and even a couple of pieces of petrified wood. The visitors center has a nice museum explaining the carter and it's history and there's also a tiny water park next door. We just surface hunted, but it seemed that the more serious collector regulars all had massive sieves and shovels. They were camped out under the covered water areas sluicing away. We were told by locals of a girl a few weeks before who had found a 3 carat diamond and sold it for $20,000. That's enough motivation to go back and spend more time here. It's the only diamond mine in the world open to the public.
Kid Fact -
Crater of diamonds is actually the top of a volcano that has eroded down.
---