Pennsylvania



Middle Devonian Fossils - Swarata State Park, PA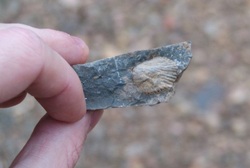 What you'll find - Middle Devonian Marine Fossils
What are they - Mostly Brachiopods (shells)
Fee - Free
Website -
www.dcnr.state.pa.us/stateparks/findapark/swatara/index.htm
Address - Old State Road
, Pine Grove, PA
Tips - The fossils were actually dumped here, and originally came from a construction
site on I-81. So they are loose on the ground, but you can also find fossils embedded in the shale bedrock on the edges of the pit.
Kid Fact - Tell mom and dad that Hershey, PA is just down the road!
---
Carboniferous Fossils - St. Clair, PA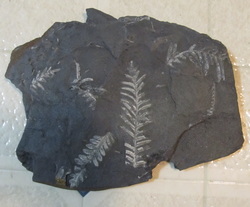 What you'll find - Late Devonian Fern Fossils
What are they - White and yellow imprints of ferns in shale
Fee - Free
Address - Burma Road, St. Clair, PA

Tips - Head about 3 miles out of St. Clair on Burma Rd. There will be a shooting range on the right and a small parking pull off just after it. Hike in on the ATV trail staying on the main path for about 1/2 mile. When you can see the ridge in the distance you are basically on the edge of it, bear to the left, and the trail will take you down to a very large shale bed. The fossils are everywhere. Just start splitting the shale open. Bring a bucket or some way to carry your finds back to the car. Short, flat screw drivers work well for the kids, without banging, to pop the shale open. If you want bigger plates, bring a small sledge hammer and a chissel. The ferns found here are most commonly Alethopteris, Neuropteris, and Pecopteris from about 300 million years ago. They were actually tree ferns that sort of resembled palm trees and could grow up to a hundred feet. You'll also find some yellow-orange bark in some of the fossils. Sphenophyllum is found here too and was probably a shrub or creeping vine whose fossils look a lot like flowers.

Kid Fact - This used to be a coal mine, so if you see some shinny black rocks, it's coal. Pick it a piece or two up and add it to your collection.

---