Ohio

Flint - Nether's Farm, Flint Ridge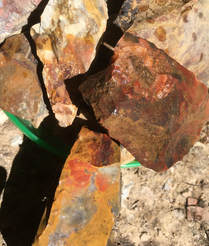 What you'll find - Piles of red, orange, yellow, gray, and black flint
What is it - fine grained quartz
Fees - $7.50/person plus $0.50/pound
Address - Use 3890 Flint Ridge Road, Hopewell, Ohio even though the mailbox says
3680.
Hours - Any time

Tips - You must check in with the Nether's first by knocking on the porch door. If they aren't there you can proceed to the collecting area across the street from their driveway and just weigh and pay your fees via the scale and envelopes on the porch when you are done. As you enter the dirt path into the collecting area you will start seeing large piles of flint just 50 feet in or so. All along the path are super easy collecting mounds and pits. The only hazards are that the flint itself can be sharp and there are a few dug holes about 6 feet deep.

Kid Fact - The flint from this ridge has been used to make Native American arrowheads, spear points and tools all over the mid-west and have been found as far West as Kansas City, as far east as the Atlantic Coast and as far south as Louisiana.

---
Ordovician Fossils - Caesar Creek State Park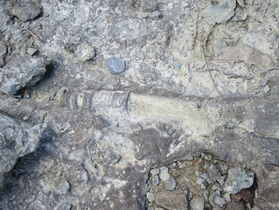 What you'll find - Tons of fossil shells from brachiopods,
horn corals, bryozoa, and some trilobites if you are lucky
What are they - fossils from about 450 to 500 million years
ago
Fees - free
Address - 4020 N. Clarksville Road, Waynesville, OH
45068-9408
Hours - Memorial Day - Labor Day: Sun - Sat, 8am - 5pm
Labor Day - Memorial Day: M - F, 8am - 4pm, Sat & Sun,
8:30am - 5pm

Tips - You must get a permit to hunt for fossils from the US Army Corps of Engineers Visitor Center. They just have you sign a form after they explain the rules and then you are free to collect from the spillway. The whole spillway is covered with fossil brachiopods (shells) and there is also plenty of "trilobite skin" on the floor from larger trilobites that have broken up. Finding smaller trilobites intact was much harder. This is a very easy fossil collecting site for kids.

Kid Fact - The small trilobites here like to curl into balls like modern pill bugs.

---