Ohio

Ordovician Fossils - Caesar Creek State Park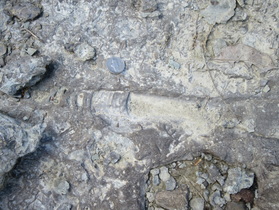 What you'll find - Tons of fossil shells from brachiopods,
horn corals, bryozoa, and some trilobites if you are lucky
What are they - fossils from about 450 to 500 million years
ago
Fees - free
Address - 4020 N. Clarksville Road, Waynesville, OH
45068-9408
Hours - Memorial Day - Labor Day: Sun - Sat, 8am - 5pm
Labor Day - Memorial Day: M - F, 8am - 4pm, Sat & Sun,
8:30am - 5pm

Tips - You must get a permit to hunt for fossils from the US Army Corps of Engineers Visitor Center. They just have you sign a form after they explain the rules and then you are free to collect from the spillway. The whole spillway is covered with fossil brachiopods (shells) and there is also plenty of "trilobite skin" on the floor from larger trilobites that have broken up. Finding smaller trilobites intact was much harder. This is a very easy fossil collecting site for kids.

Kid Fact - The small trilobites here like to curl into balls like modern pill bugs.

---